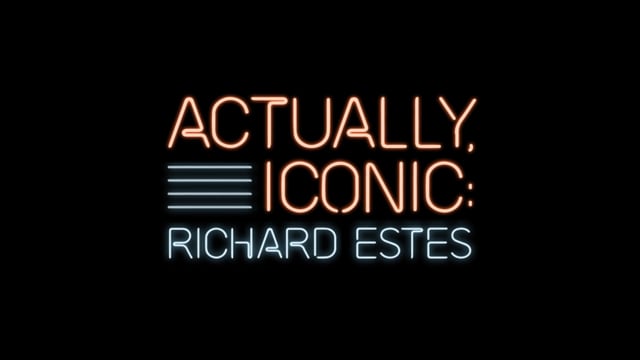 Actually, Iconic: Richard Estes
Buy/Rent On Demand
Watch on Curiosity Stream
Purchase DVD $25
About the Film
Richard Estes is an icon of the photorealist movement yet he has humbly avoided media attention over his long career. Actually, Iconic: Richard Estes"invites viewers into Estes' world with unprecedented access to the artist and his masterpieces. Through intimate discussions of his technique and inspirations, and interviews with leading curators and critics this delicate portrait does more than just explore Estes' pioneering genius; it humanizes it.
68 minutes
"This film is an excellent introduction to the creative process of Richard Estes, the king of photorealism. It unfolds how Estes researched and documented the subjects he later paints in his studio, what tools and materials he uses to create his masterpieces and how Estes perceive the world around him. It also presents excerpts of the brushing techniques Estes employs to make a paint." Educational Media Reviews Online
"Actually, Iconic lets the artist speak. It's refreshing and conversational. Estes is quietly confident. He's far from a mood-swing artist. When the artist does the talking and touring, we get not only a different point of view. It's as though we're hearing a beautiful new language. Kudos to Stone since it takes patience, charm, and, I assume, wiles to get artists, and the good ones are reticent, to speak so honestly and movingly." Brian T. Allen in the National Review
If you are interested in news about film festival virtual streaming please check out our Facebook page.
Q&A for UNC-TV from Sept 3, 2020 moderated by UNC-TV's CEO, Lindsay Bierman.